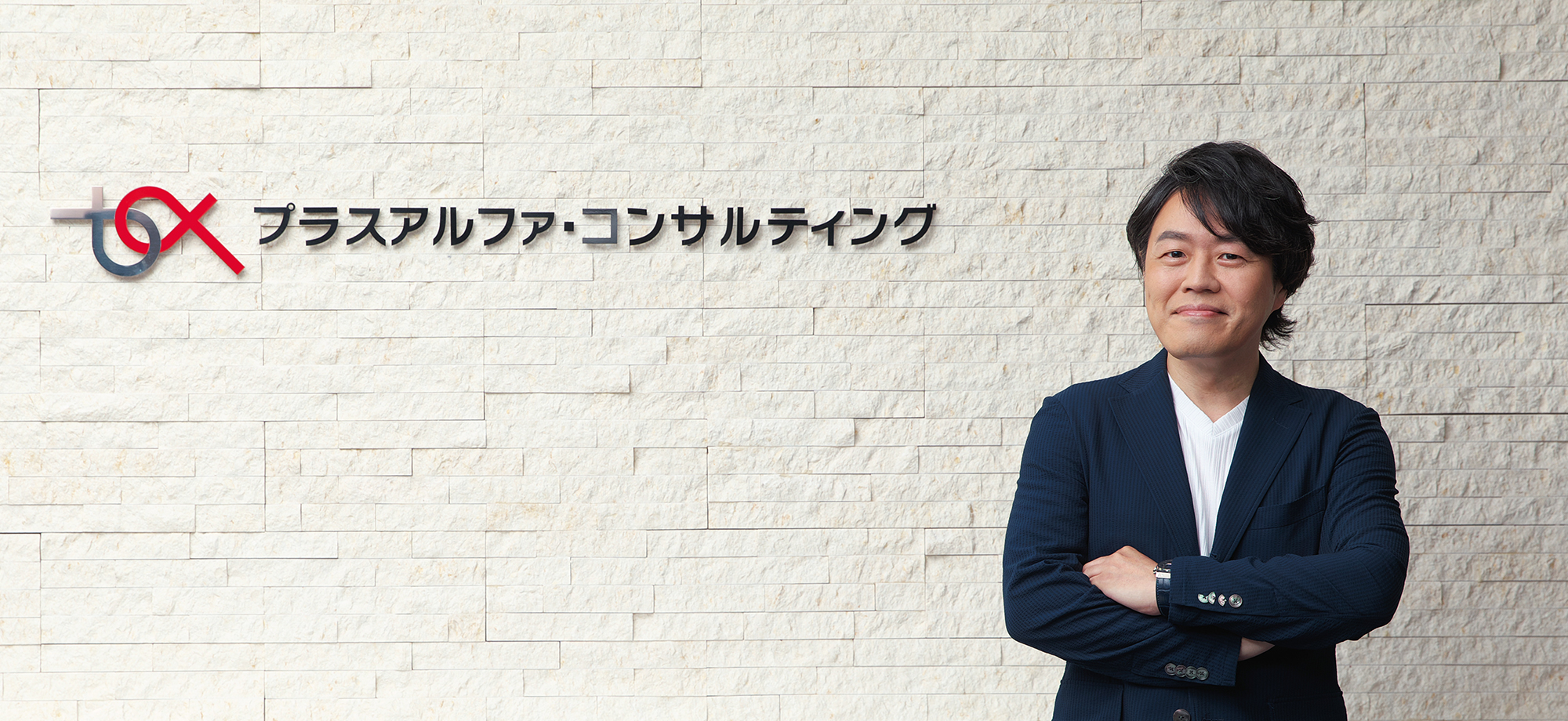 The world is overflowing with Big Data.
Nowadays, digitalization is progressing in a wide array of business and human activities, and IT technology is making people's lives more convenient. At the same time, involvement with IT has led to the digitalization of information disseminated by consumers themselves as well as the diversity of information arising from human behavior, and increasingly, companies' ability to effectively utilize this information is becoming their source of value creation.
Moreover, sustained by information volume and computational ability, AI (Artificial Intelligence) is evolving rapidly, and we are fast approaching an age in which many jobs will be automated or replaced by AI technology.
However, we believe that under such circumstances people's ability to access information, gain insight, and create new things will become even more important than ever. The corporate form that we aspire to is a solutions company that has the ability to visualize enormous amounts of information in an easy-to-understand form through utilization of cutting-edge technology, thereby drawing out people's creativity to the maximum. The solutions that we provide have all been born from our own experiences as the parties concerned worrying about and contemplating issues that have affected us personally. Moreover, as customers utilize our services, we further evolve functions for realizing the essential resolution of their problems.
Moving forward, we promise to continue tackling new challenges and evolving hand-in-hand with our customers, always providing the "excitement of breaking through" and "ever-broadening possibilities" that exceed customers' expectations in keeping with the "PLUS ALPHA" name.
Katsuya Mimuro
CEO, Plus Alpha Consulting Co., Ltd.
While studying at the Graduate School of Science and Engineering, Waseda University, Mr. Mimuro conducted research in such fields as neural networks, image recognition, and parallel processing. After graduation, he joined Nomura Research Institute, Ltd., where he subsequently participated in various projects utilizing AI and data mining, including product demand prediction, good customer analysis, map information systems, and WEB access analysis. Based on his consulting experience, he later realized the importance of text data of customers' frank opinions and developed a text-mining system for the purpose of analysis while working as the project manager. In 2007, Mr. Mimuro accepted the position of CEO of Plus Alpha Consulting Co., Ltd. with the aim of enabling all enterprises that seek to improve their products or services by listening to their customers to utilize text mining more easily. Today, Mr. Mimuro continues to proactively promote the development of new solutions, aiming to utilize cutting-edge technology such as CRM and talent management that is useful in business practices.
Officer Profiles
Kenji Suzumura

Vice President

After graduating from the Faculty of Science and Engineering, Chuo University, Mr. Suzumura joined Nomura Research Institute, Ltd. After gaining experience in CRM and information systems development as a system engineer, he was involved in text-mining activities as a sales/marketing manager. While gaining experience through participation in numerous data-mining projects and customer opinions utilization projects centered on major companies' representative of Japanese industry, he endeavored to raise awareness of text mining and promote utilization of data mining technology in business, through information-dissemination activities such as writing and making public presentations. Joining Plus Alpha Consulting Co., Ltd. in 2007, Mr. Suzumura was appointed Vice President. Promoting CRM/marketing automation business activities utilizing data mining as well as the use of text mining both in Japan and overseas, Mr. Suzumura spends his days rushing around Japan and the world endeavoring to create new business centered on "visualization," such as activities to broaden the use of talent management aimed at maximizing employee performance.

Shogo Noguchi

Director and Operating Officer

After graduating from the Graduate School of Science and Engineering, Tokyo Institute of Technology, in 1996, Mr. Noguchi joined Daiwa Institute of Research Ltd., where he conducted surveys of stock exchange-listed companies and non-listed companies. He joined Goldman Sachs as a securities analyst in April 2000, conducting stock surveys in industries such as IT, software, media, and advertising. In September 2002 he joined KPMG Corporate Finance LLC, where his work involved providing M&A advisory services. In September 2003 he joined Yahoo Japan Corporation, assuming the positions of President and Corporate Planning Officer. After joining IFIS Japan Limited in September 2006, in March 2007 he was appointed to the position of Director, overseeing the Administrative Division and Investment Information Business Division. In July 2019, Mr. Noguchi was made a director of Plus Alpha Consulting Co., Ltd., taking charge of the Corporate Division.

Wakaba Kaneko

Director and Operating Officer

After working for a drugstore, where she gained experience in areas including OTC pharmaceutical sales, inventory management, staff training and new store launches, Ms. Kaneko joined Plus Alpha Consulting Co., Ltd. in 2007. She participated in the establishment of Plus Alpha's consulting service for user enterprises, which aimed to facilitate effective utilization of our "Visualization Engine." She has experienced various aspects of the company's operation ranging from training to support and consulting services in numerous areas of specialization. In particular, Ms. Kaneko has contributed to the success of a large-scale consulting project for which the "Visualization Engine" was utilized as a platform by the entire company. Subsequently, she oversaw the establishment of the Osaka and Fukuoka Branch Offices, strengthening and expanding relationships with customers in both regions. Currently Ms. Kaneko oversees Plus Alpha's consulting business overall, working to expand and establish services.

Takashi Takeuchi

Director and Operating Officer

Working mainly in the area of data processing, Mr. Takeuchi gained experience in the fields of data entry, scanning, data conversion, and related system-development activities before joining Plus Alpha Consulting Co., Ltd. in 2007. As a Development Team member, he participated in the launch of the "Visualization Engine." Since then, he has been involved in all of the company's solutions development projects while supporting the continuous evolution of the "Visualization Engine." Currently Mr. Takeuchi is in the process of establishing an innovation center for promoting cutting-edge research and development, pursuing the construction of a development base for the entire company for the purpose of providing further added value in the area of product development.

Takashi Nakai

Director and Operating Officer

While studying for his master's degree at the Department of Naval Architecture and Ocean Engineering, Graduate School of Engineering, The University of Tokyo, Mr. Nakai specialized in structural design of offshore structures as well as planning and research of floating society infrastructure. After joining Nomura Research Institute, Ltd., he was responsible for areas such as environmental analysis for formulating business strategies, project management for R&D and investment business activities, organizational analysis/diagnosis, and knowledge management. In particular, he sensed the effectiveness of analyzing and utilizing patent and academic paper data acquired using text mining in research planning, business development, and formulation of M&A/industry-academia collaboration strategies by manufacturers, universities, and research institutions. Accordingly, his work involved the commercialization of cloud-based analysis services and related consulting business activities. Mr. Nakai joined Plus Alpha Consulting Co., Ltd. in 2016. Making the most of his wealth of experience in utilizing diverse data and supporting the formulation of companies' business strategies, he oversees Plus Alpha's solutions utilization support and consulting services, including customer experience feedback using text mining (CXM), customer realization-type CRM, and scientific human resources management, promoting the planning and development of new functions and services and the formulation of proposals for businesses and markets.

Masahito Matsubara

Operating Officer

After graduating from the Tokai University School of Political Science and Economics, Mr. Matsubara joined transcosmos inc., where he was involved in spreading information about contact center construction/operation and supporting the utilization of "customers' voices" (VOC). Mr. Matsubara joined Plus Alpha Consulting Co., Ltd. in 2007. In addition to promoting the adoption of text-mining services by more than 1,300 companies since Plus Alpha's text-mining business was launched, he has promoted consulting that utilizes a broad diversity of VOC. Mr. Matsubara is currently endeavoring to disseminate and promote new VOC activities through consulting activities and seminar presentations while at the same time promoting research and planning new ways of utilizing data that combines new types of information such as audio, images, video, and social media data that exceeds the framework of text data alone.

Norio Nishida

Operating Officer

Working mainly in the field of systems integration, Mr. Nishida gained experience in the design and development of systems for various industries, including WEB system development, data management, machinery control systems, and auction systems, as well as in training technicians as a program training instructor. Having been a part of Plus Alpha Consulting Co., Ltd. since the company's foundation, he has been involved in the launch of various Plus Alpha services, contributing to project management and the expansion of the company's services from business activities centered on the design and development of new functions utilizing customers' opinions. Mr. Nishida is currently involved in the construction of a systems base for all of the company's services as well as management of function design and development.

Yuji Yamazaki

Operating Officer

After graduating from the College of Economics, Nihon University, Mr. Yamazaki joined transcosmos inc., where he gained experience with telephone and WEB marking support as well as CRM projects. Joining Plus Alpha Consulting Co., Ltd. in 2011, Mr. Yamazaki was appointed to his present position in 2017. He currently oversees both the Sales and Marketing Divisions, planning and promoting various systems for increasing added value in the marketing workplace through data utilization with a strong command of IT. He is also active across multiple areas, including planning and development of new business activities, planning and promotion of existing business activities, and human resources training. Mr. Yamazaki's written works include publications on "realization-type" digital marketing that provides optimal customer experiences.

Mayu Shimomura

Operating Officer

After gaining experience in advertising/marketing, sales management, recruitment and advertisement production/proposals in the beauty industry, Ms. Shimomura joined Plus Alpha Consulting Co., Ltd. in 2012. She is mainly involved in consulting activities. With her rich experience with analysis projects utilizing the latest text-mining technology, Ms. Shimomura's specialties are social analysis and image analysis. She also regularly presents university lectures and speaks at seminars on the topics of data-analysis technology and analysis methods. In addition, Ms. Shimomura is active not only within Japan but also in Singapore, China, and various other countries as a central member of Plus Alpha's overseas expansion team.

Masato Setaishi

Operating Officer

After graduating from the Department of Design, Faculty of Engineering, Takushoku University, Mr. Setaishi worked in the design field as a DTP designer before developing an interest in system construction work and starting his career at Sier. As a system engineer, he has worked in a managerial position overseeing system development for major pharmaceuticals and other companies from requirement definition to system implementation and operation. In addition, because of the high praise he received for his system UI, which utilizes his experience in the field of design, Mr. Setaishi started constantly thinking about what systems would be easy for users to use as he went about his work. He subsequently joined Plus Alpha Consulting Co., Ltd. as a means for him to take on this challenge in a wide range of fields. In Plus Alpha's CustomerRings Business Department, he is overseeing the implementation and utilization support for numerous systems as an analysis consultant, utilizing his experiences as an SE to promote utilization support by taking advantage of the coordination between various data. His written works include publications on "realization-type" digital marketing that provides optimal customer experiences.

Tomohiro Igarashi

Operating Officer

After graduating from the School of Engineering, Tokai University, Mr. Igarashi gained experience as an intern at ALBERT Inc. He subsequently joined Plus Alpha Consulting Co., Ltd. in 2010. In addition to his extensive sales and marketing experience gained in such areas as text mining, FAQ, CRM, and talent management, Mr. Igarashi has been involved in numerous projects as manager of the Yumemiru (Osaka) Branch. He is promoting business planning and implementation support for the visualization of information—which is a business concept—as well as support for business utilization.